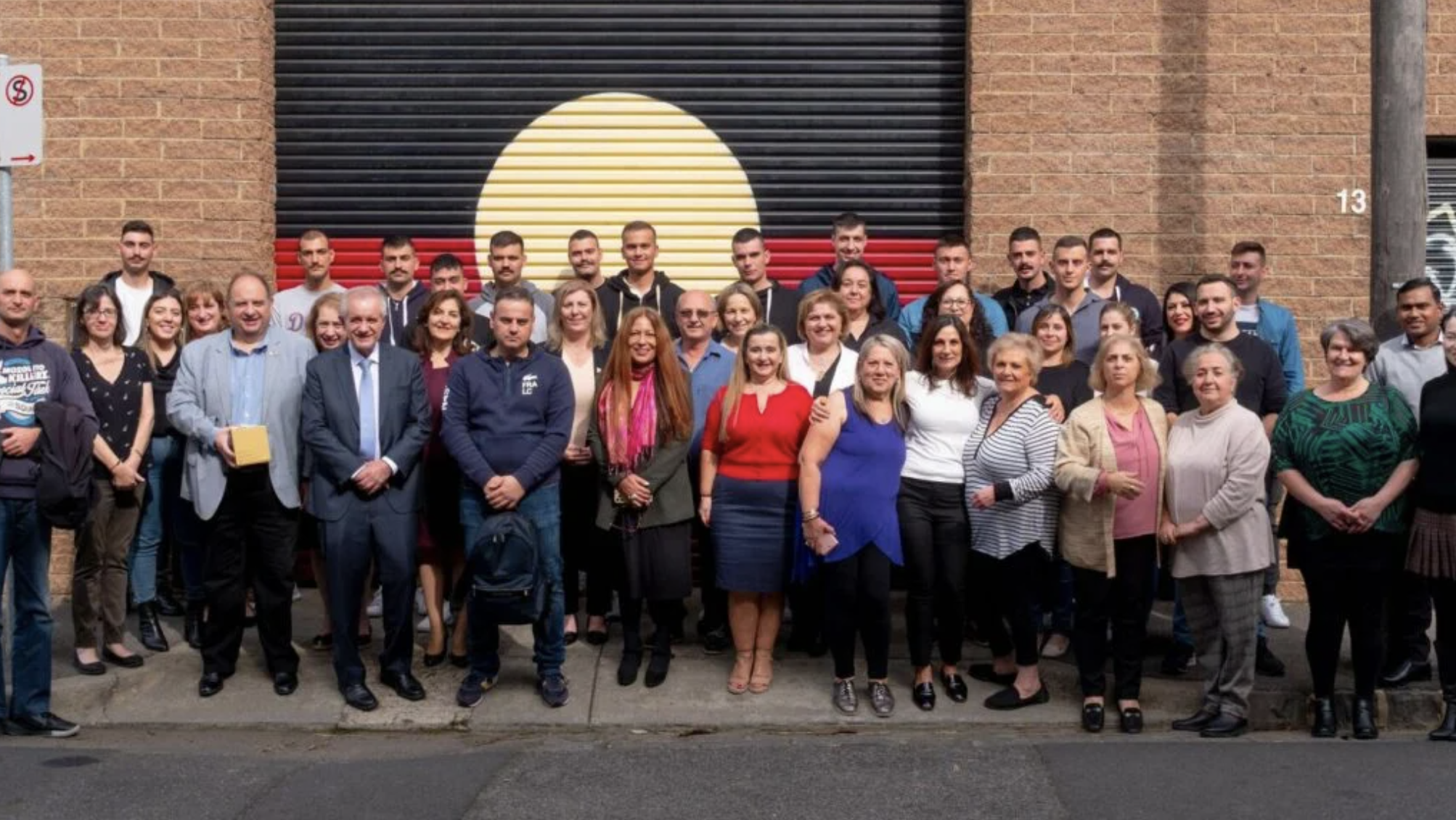 Evzones impress their PRONIA and Hellenic RSL hosts
It was not all guard duties and ceremonial functions that the Evzones attended to during their visit to Melbourne when they were the toast of the city's Greek Australian community.
In between formal events such as their participation in the Anzac Day march, the contingent of the famous Greek Presidential Guard took part in a number of commemorative events at the Lemnos Gallipoli Square, the Australian Hellenic Memorial they were also present for church functions during Holy Week. But it was not all formality during their visit.
Yesterday the guardsmen paid a visit to the offices of PRONIA in Brunswick where they were welcomed by Kris Pavlidis, the organisation's president and Tina Douvos-Stathopoulos, the CEO as well as delighted staff members and the elderly members of PRONIA's Daily Planned Activity Groups. Justice Emil Kyrou who is a patron was also there to receive them.
'The Greek National Guard first visited the elderly who welcomed them with great enthusiasm but also with many questions about the symbolism of their uniform and their tenure as 'evzones'. Major Vasileios Sakellaropoulos presented a short video about the life and training of the National Guard while other members of the guard explained about their uniform and its symbolism. Everyone present had the opportunity to chat and to take photos with the 'evzones'," said a member of PRONIA.
Their visit was particularly poignant given this is the organisation's 50th year in operation.
Ms Pavlidis thanked the guests in a lunch that was organised in their honour.
"It is our great honour and pleasure to welcome you to our offices and especially this year as we celebrate fifty years since the founding of the organisation. We would also like to thank the Chairman of the Victoria National Anniversary committee, Mr. Antonios Tsourdalakis, and Mr. Peter Andrianopoulos from PRONIA, who organised this visit and for their continuous work for the good of the Greek community," Ms Pavlidis said.
On Saturday, the Evzones were the guests of the Hellenic sub-branch of the RSL (Returned and Services League) in South Melbourne where 16 members of the Evzones were the guests of 11 members of the committee including past president of the branch Steve Kyritsis.
"It was very informal and relaxed. They said they were happy to be in a building that included images of the 1821 Greek War of Independence and of the Greek Campaign of the Second World War. They were very interested in stories of the roles played by Greek-Australians in the Australian Defence Force, starting with the Anglo Boer War (1899-1902) when five Greek Australians were among the 16,000 Australians in the war in South Africa," said Mr Kyritsis who is a Vietnam War veteran.
"All of the evzones were levendes and the pride of Greece," Mr Kyritsis said.