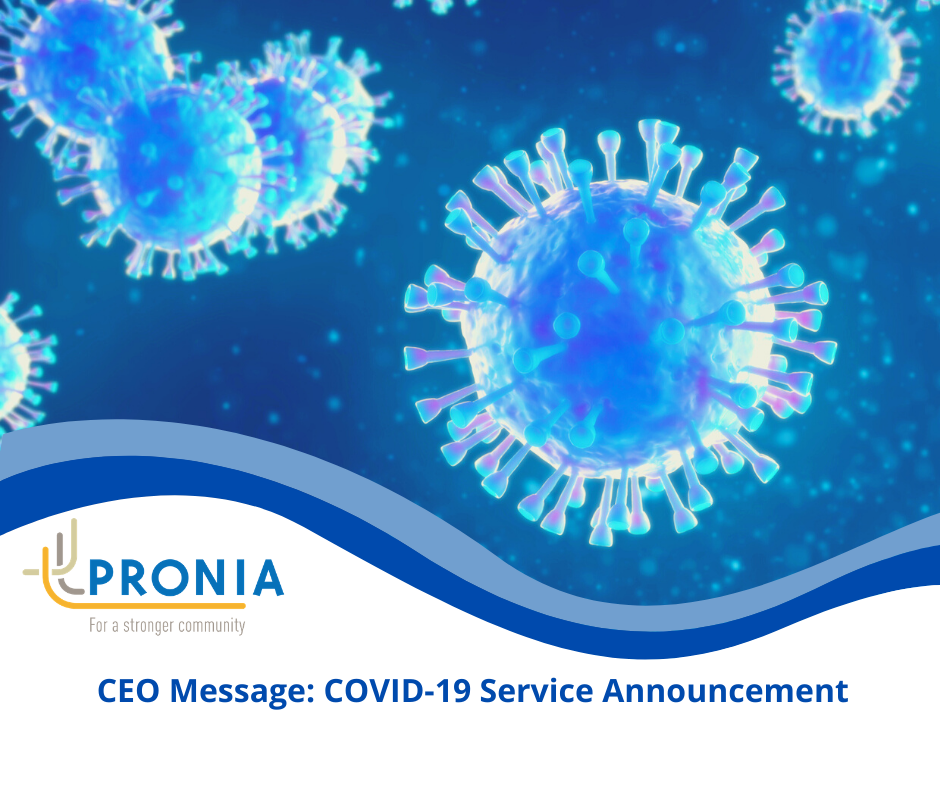 CEO Message: COVID-19 Service Announcement
Dear friends of PRONIA
The current event of the COVID-19 (Coronavirus) is unprecedented and is having considerable impact on people and communities at large. We are making every effort to provide the latest information provided by the Australian and State governments, health authorities and Department of Health and Human Services to ensure the safety and wellbeing of everyone concerned. This information also helps us to better understand our role in protecting the most vulnerable individuals within our services and the community.
Daniel Andrew's recent State of Emergency announcement due to the COVID-19 pandemic requires us to implement measures that will make work environments safer by implementing practices such as social distancing, good hygiene and making sure those who are unwell remain home. We have implemented increased infection control practices across all our programs and our business continuity plans are continually evolving to respond to the current staff, service and client needs.
We will keep you updated with government announcements that may impact our services.
We recognise that the COVID-19 virus will affect many people as the reports indicate which will create uncertainty as to the level of impact on our services in the coming months, however PRONIA has enacted its Pandemic Plan in response to the COVID-19 virus and is adapting it's operations to respond to the most up to date information and changing nature of events.
PRONIA, like many organisations, has felt the effects of the COVID-19 pandemic causing disruptions to our programs and services. Central to all our decisions is the health, safety and wellbeing of our clients, staff, volunteers and the most vulnerable and at risk groups in our community. We have made decisions regarding a number of our non-essential programs attended by older people, people with disabilities and those with underlying health conditions.
As of Monday 23rd all the planned activity groups, Greek cardiac program, community forums, events and support groups will be suspended for four weeks to Tuesday 14 April. We have however modified these services to maintain contact with clients and carers encouraging social connectedness and monitoring the wellbeing of those who are vulnerable and at risk. Some volunteer programs have also been affected particularly services to residential facilities that have enforced strict restrictions on visitation to protect their elderly residents.
Home care packages and respite programs continue to operate and support elderly to remain in their homes, implementing infection control practices and working within the social distancing parameters to ensure the safety of both clients and our workers while undertaking their work.
PRONIA frontline casework, counselling and psychological services continue to be available to existing and new clients and are aside from their normal functions are well placed to respond to individuals experiencing heightened levels of anxiety and stress at this time. I encourage anyone who is in need of these services to contact PRONIA on 9388 9998 to speak with our bilingual professionals via telephone or where available connect via telehealth and video conferencing services.
Alpha Early Learning Centre continues to operate providing services to families through its regular programs and offering additional care to families who are minimising children's exposure to grandparents and supporting working parents requiring extra assistance. Our educators have adopted strict sanitation practices in their work, closely monitor the health and wellbeing of children while undertaking their daily activities and given the current circumstances use age appropriate education methods to educate children about COVID-19.
We are committed to continuing to support our clients, families and vulnerable members of our community by providing more flexible service responses within our client services. I take this opportunity to share a couple of government links that provide updated information and resources that may be of use to you and your families:
The Department of Health website is updated regularly with the most up-to-date public health information, prevention strategies and resources. A COVID-19 Health Information Hotline (phone 1800 020 080) is available 24 hours a day, seven days a week.
Healthdirect Hotline (phone 1800 022 222) is available if anyone needs to speak to a registered nurse. The hotline is open 24 hours a day, 7 days a week.
Victorian Department of Health and Human Services translated resources can be found Translated resources – coronavirus disease (COVID-19) providing Greek and other language material regarding COVID-19.
We encourage everyone to continue safe distancing and infection control practices and where possible support those most vulnerable in the community particularly the elderly who may need additional assistance and care at this time.
Tina Douvos-Stathopoulos