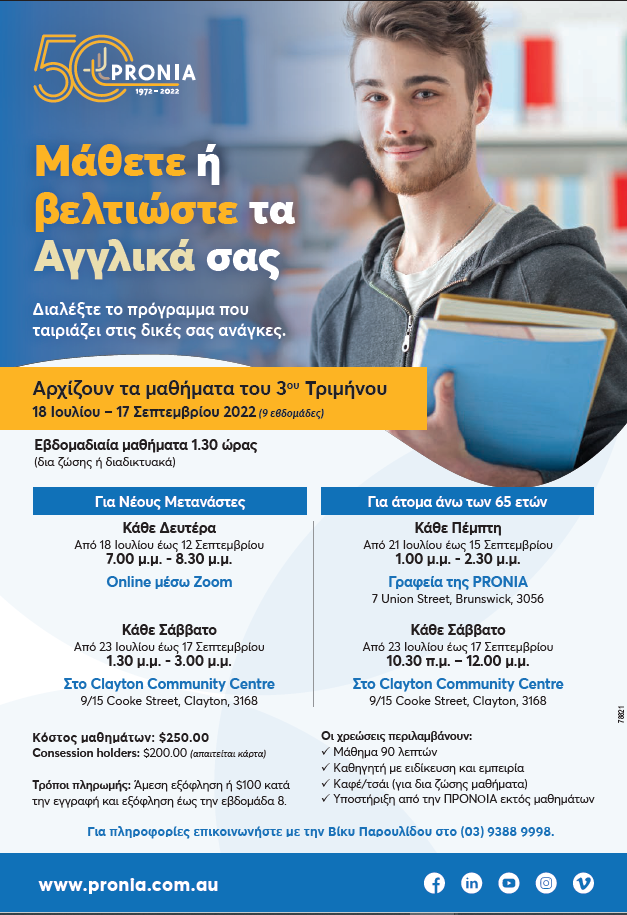 Starts

Monday 18th July

Ends

Saturday 17th September

Time

12:00am - 12:00am
English Language Classes
𝗗𝗶𝗱 𝘆𝗼𝘂 𝗸𝗻𝗼𝘄 𝘁𝗵𝗮𝘁 𝘆𝗼𝘂 𝗰𝗮𝗻 𝗹𝗲𝗮𝗿𝗻 𝗘𝗻𝗴𝗹𝗶𝘀𝗵 𝗳𝗿𝗼𝗺 𝘁𝗵𝗲 𝗰𝗼𝗺𝗳𝗼𝗿𝘁 𝗼𝗳 𝘆𝗼𝘂𝗿 𝗵𝗼𝗺𝗲?
We all know that learning to speak and write English is a key skill for newly arrived migrants in Australia.
If you are looking for work and to get settled in Australia, mastering the English language should be your first priority.
At PRONIA, we have been providing new migrants and older adults with English classes for many years, having helped hundreds of people improve and develop their communication skills. And you could be next!
Join us for this term as classes begin online on Monday 18th July. Our qualified English teacher has over 30 years' experience in teaching English and is bilingual, making it easier for Greek speakers to understand and ask questions.
For inquiries call Vicky at (03)9388 9998 or email: vickyp@pronia.com.au